May 13: ALT Coins Give You Wings
Trading Crypto with Eugene is a series of daily commentary of market analysis and trading advice shared by Eugene Ng of Matrixport, a veteran trader with 10 years of experience in top-tier global investment banks. If you like the article, please follow us here on Blockchain.News so you won't miss our future publications.
BTC managed to snap out of its 4-day losing streak as it stayed well bid up close to 3% in the past 24 hours. This is likely the result that miners holding BTC are not selling their coins (see chart below that shows mining pools are holding BTC instead of selling ahead of halving) and are well-hedged post halving i.e. put-to-call ratio continues to stay elevated at ~1.70. In an interesting development, JPM has now onboarded Coinbase and Gemini as customers; paving the way of crypto being accepted as an asset class. ETH also sparked some headlines as Vitalik clarified that the July launch of ETH 2.0 isn't set in stone yet.

Last week, I highlighted that the Bitcoin dominance (i.e. % of the entire crypto market share) has hit a key trendline resistance at 69%, which is why a few alt tokens are now putting in some pretty outsized performance last evening. For example, Stellar was up more than 10%. If this XLM trend continues, expect Ripple to follow suit. Zcash was up more than 5% on the back that Electric Coin Company announced the launch of the Zcash developers alliance (ZDA). Cardano also did around 5% as its founder Charles Hoskinson tweeted yesterday "there is no delay of Shelley. Pioneer is set for launch today".
Trade Strategy: Similar to yesterday. I've closed my long volatility trades, and will start to sell some volatility here and whenever it spikes. While implied volatility has sharply declined from 100% to 80% since Sunday, the longer-term average before the 12 March crash is around 55-60% so there's still juice to be short vol. Short the 2-day $8,000 put or the 9-day $7,000 put for 20% annualized interest. Message me if you need to discuss trade ideas, good luck.
Chainalysis did a blockchain analysis shows that mining pools have been holding more Bitcoin as the halving approaches... Suspect they are mostly well hedged with puts; hence they are holding (than selling them)...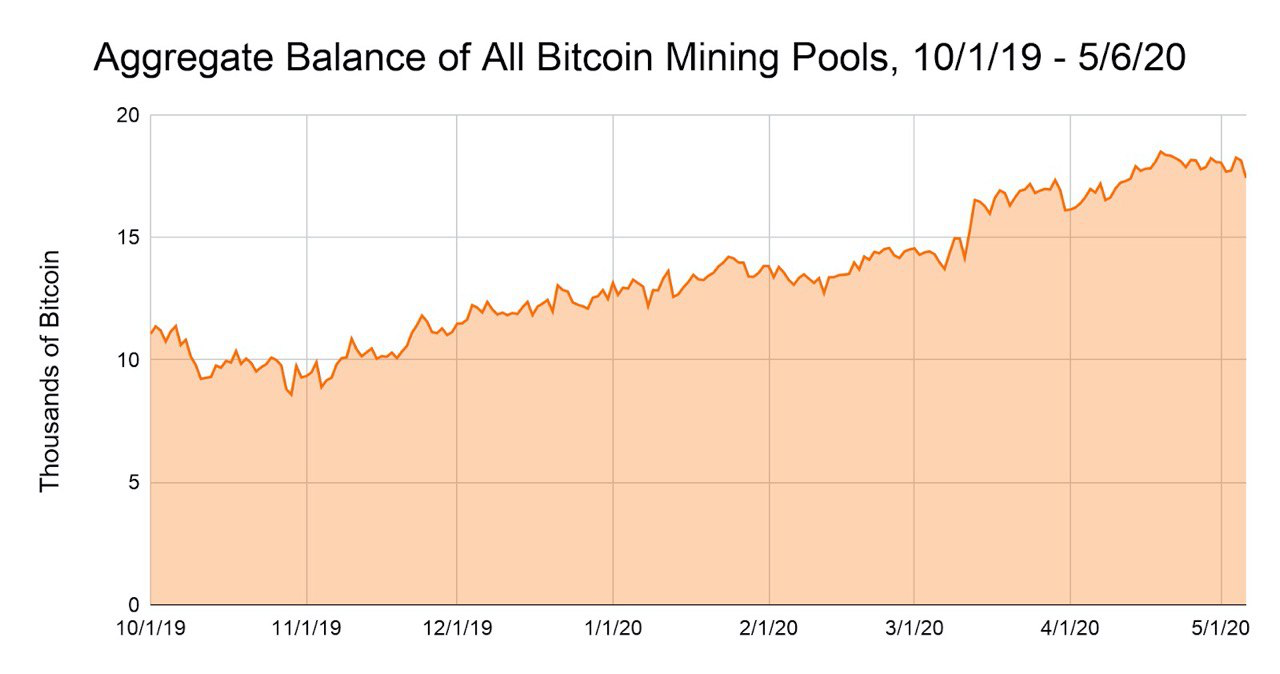 Bitcoin Put/Call ratio continues to stay elevated; either the market wants to be hedged against a lower move in the short term or they are skeptical of the current bid... or the miners haven't taken off their downside hedge...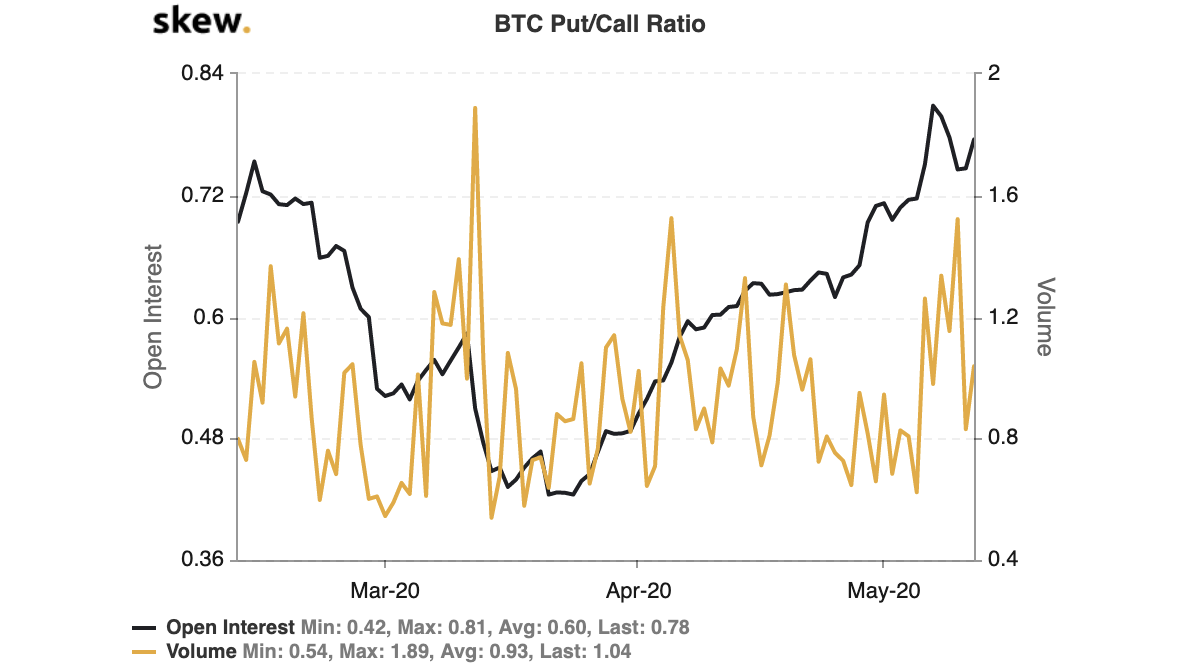 Bitcoin dominance.. look at that beautiful resistance trendline capping BTC from outperforming the market.. Sometimes technicals work like a charm, and here's one of those occasions..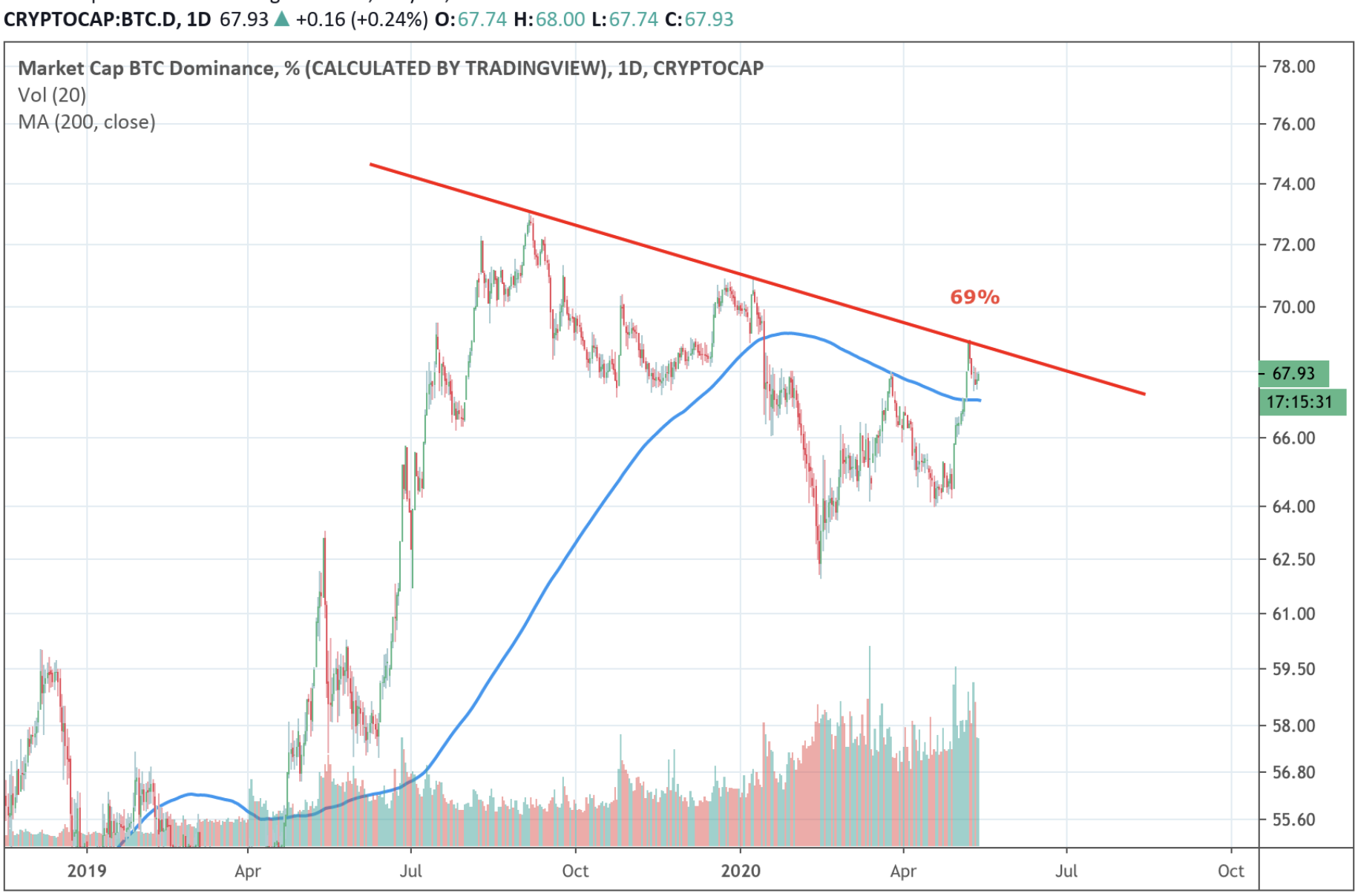 Implied volatility pre the March 12 is averaging around 50 to 60%, which is why at 80% I am a seller...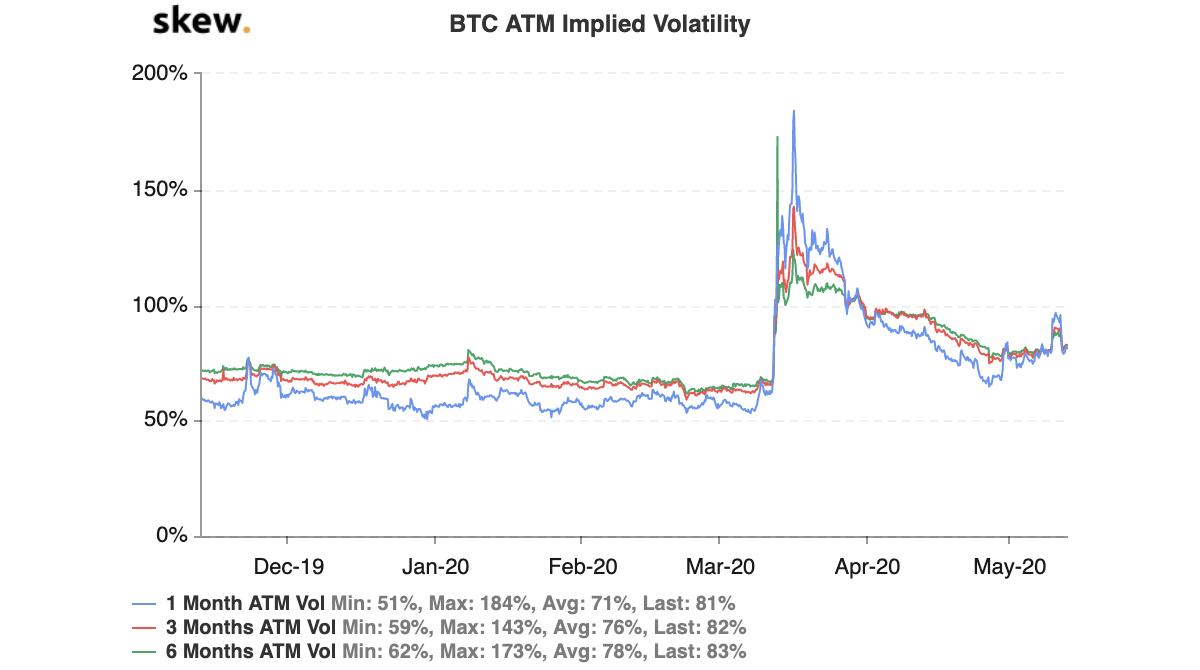 Opinions expressed are solely the analyst's own and do not express the views of Matrixport the company.
The views and opinions expressed in this article are those of the contributor and do not necessarily reflect the view of Blockchain.News.
Read More