How To Buy Bitcoin and Crypto With Paypal in 2021
Recently, PayPal has become very favorable to crypto. In November 2020, the company announced that all US users would be able to buy Bitcoin and 3 other cryptocurrencies (Litecoin, Bitcoin Cash, and Ethereum) directly through their PayPal digital wallet.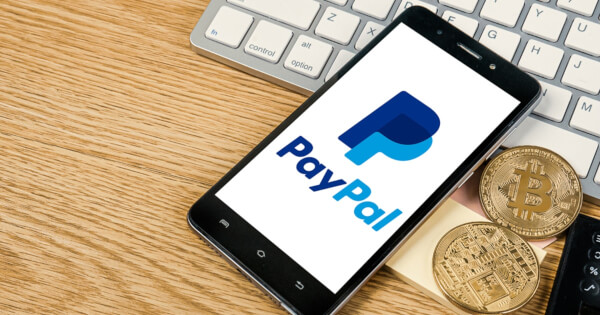 However, for the time being, if you aren't a US citizen you won't be able to use this feature in the near future. Furthermore, cryptocurrencies bought with PayPal are locked within your wallet and cannot be transferred anywhere else. This means that you won't be able to use your coins outside the PayPal platform.
So is there a solution to buy crypto with PayPal? The short answer is yes! - although this isn't as easy as it may seem. Popular cryptocurrency exchanges such as Binance or Coinbase do not accept PayPal as a method of payment yet.
In this article, we will explore the different options on how to buy cryptocurrency with PayPal, together with their pros and cons. Let's dig in.
Buying crypto with PayPal on eToro
The easiest way to buy cryptocurrencies with PayPal is through the eToro social trading platform.
eToro is a social trading and multi-asset brokerage company that has registered offices in Cyprus, Israel, and the United Kingdom. They have an online trading platform that has both manual and social trading features. Social trading enables users to follow the financial trading activity of other users and copy their trades.
While it's fairly easy to register and buy crypto on eToro, you will be quickly disappointed if you wish to transfer them to a personnel wallet, as the process is tedious and doesn't guarantee results. So, if your goal is to use your crypto for purchasing services or goods or send them to someone as a gift, there's nothing to see here.
If, on the other hand, you wish to make profits from cryptocurrency price fluctuations, eToro is a great platform to do so. The fees are fairly low and it provides an intuitive interface for trading cryptocurrencies.
That being said, make sure that you understand the risks of trading with cryptocurrencies. These are highly volatile assets and inexperienced traders can quickly lose their funds if they aren't careful.
Pros: Low fees, easy registration, beginner-friendly interface.
Cons: Not available worldwide, withdrawing crypto is tedious.
Buying crypto with PayPal on LocalBitcoins
Another, albeit more complicated method of buying cryptocurrencies with PayPal, is peer-to-peer exchanges such as LocalBitcoins.
LocalBitcoins is a peer-to-peer bitcoin marketplace based in Helsinki, Finland. Its service facilitates over-the-counter trading of local currency for bitcoins.
Users of the platform post advertisements on the website, where they state exchange rates and payment methods for buying or selling bitcoins.
This means that you aren't dealing with a corporation here, but with the actual person selling the bitcoins. So the seller's credibility and reputation is another thing to watch out for. That being said, LocalBitcoins has a reputation and feedback mechanism for users and an escrow and conflict resolution service.
Worth noting is that there aren't many other options for buying cryptocurrency with PayPal, and the sellers know this. Expect to see high fees and get charged a premium, sometimes 10% over the market price.
Pros: available globally, with sellers all over the world, the price of Bitcoin is higher than average
Cons: high fees, the chance of getting scammed
Buying crypto with PayPal on Paxful
Paxful is a very similar platform to LocalBitcoins but offers even more variety in methods of payment and you can buy USDT in addition to Bitcoin.
Paxful is one of the leading online peer-to-peer marketplaces that connects Bitcoin buyers and sellers. The platform was established in 2015, making it one of the most well-established p2p methods to buy or sell Bitcoin.
While Paxful is trusted by over three million users around the globe, you still need to remain vigilant as you are again buying from an individual seller. Thankfully the exchange offers a good seller's rating method which can be relied upon.
Pros: available globally, tons of different payment methods such as gift cards and over 100 digital wallets
Cons: high fees, the chance of getting scammed
Buy crypto directly on PayPal
Finally, there's the most obvious method of buying cryptocurrencies with PayPal which was introduced in November.
The process is fairly simple as purchasing cryptos can be accessed directly through the digital wallet. However, as we previously mentioned, this service is currently limited to US citizens only and you cannot withdraw your cryptos or use them for payments.
Pros: simple buying process
Cons: crypto remains locked in your PayPal account, cannot use them to make payments.
Wrapping up
Contrary to common sense, PayPal isn't a widely accepted payment method for cryptocurrencies. The main reasons for this are the risks of chargebacks and the high fees PayPal charges merchants.
Hopefully, PayPal will soon allow cryptos to be withdrawn from their wallet, or at least let them be used as a payment method for goods and services.
Image source: Shutterstock
Bitcoin is Showing Short-Term Weakness, says Crypto Analyst
Read More