Ethereum Total Liquidity in DeFi Protocols Climbs to $90.7B, Despite Price Slip
The dominance of Ethereum in the decentralized finance (DeFi) ecosystem continues to gain steam because total value locked (TVL) in this space surged by 14.43% to hit $90.7 billion, according to market insight provider IntoTheBlock.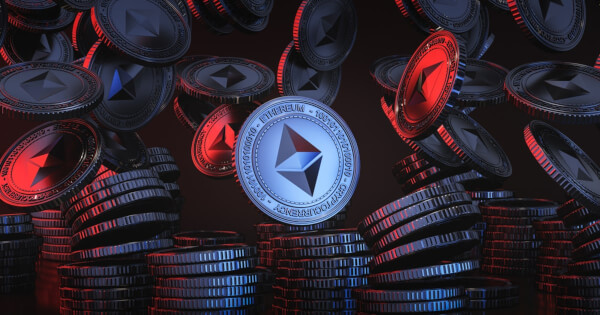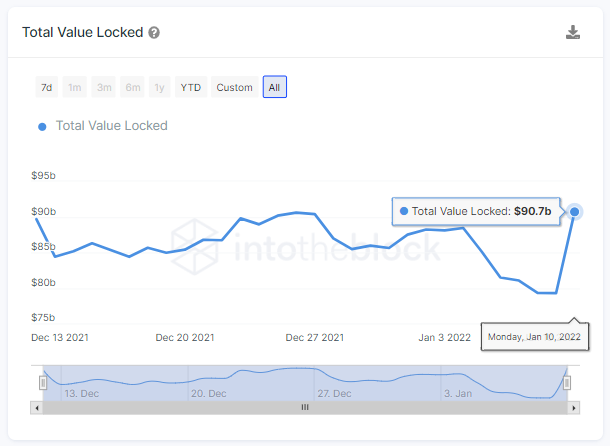 Source: IntoTheBlock
The investment in DeFi protocols on the ETH network experienced an uptick, despite the price slipping below the psychological level of $3,000.
DeFi is a booming sector in the crypto space because it eliminates intermediaries by providing financial instruments through smart contracts.
The Ethereum network continues to experience a surge in different areas. For instance, at least 20% of new Web 3.0 developers are joining the Ethereum blockchain over rival networks, according to a recent report by blockchain firm Electric Capital.
The study also indicated that the number of developers entering the ETH ecosystem was at an all-time high of more than 700 monthly.
On the other hand, long-term ETH holders are showing significant conviction. IntoTheBlock confirmed:
"Strong conviction amongst Ethereum long-term holders. The number of hodlers (addresses that have held for over one year) reached new highs with 40.87 million addresses holding 48.42 million ETH. The volume held by these addresses increased from 48m to 48.42 since December."
Crypto analytic firm Santiment echoed these sentiments and noted that the amount of Ethereum held by the top 10 non-exchange whale addresses has ballooned to 25.7 ETH.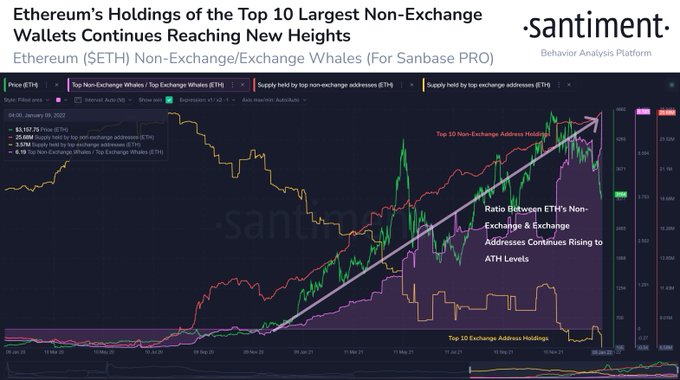 Source: Santiment.
Meanwhile, Ethereum's gas used in GWEI per transaction rose to 188, a level that was last seen in October.
GWEI (gigaWei) is a denomination of Ether, with Wei being the smallest unit on the Ethereum network, just like cents are to the U.S. dollar.
With a merge to Ethereum 2.0 slated for the second quarter of this year, it remains to be seen whether this transition will solve the high gas fee challenge experienced in the ETH network.
Image source: Shutterstock
Read More