Ethereum Price Plunges Below $2000 As Inflation Worries Hit Markets Hard
Ethereum was down by 6.88% at 06:49 AM, UTC on Wednesday, with its price trading at $1,884.98 and its trading volume stood at $17,462,593,864.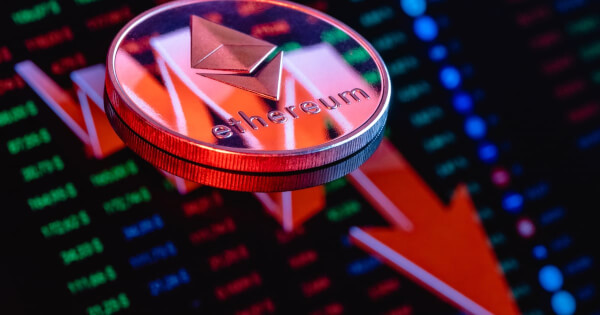 The 4-hour ETHUSD chart on the Coinbase exchange showed the presence of a descending wedge that signals a downward trend as Ethereum price is likely to continue to see a decline.
The presence of three black crows (3BC) further confirmed the downtrend as buyers are seen withdrawing from the market while sellers are gaining the upper hand.
Furthermore, the MACD lines have moved downwards below the 0-level, and this indicates a new downtrend. The two lines are also seen trying to separate while moving downwards, which signals that the downward trend is gaining strength because the current prices are falling faster than the past prices.
The new downtrend has seen the price of Ethereum plunging below $2,000 for the first time since late June. For the last 24 hours, the world's second-largest crypto-asset has down more than 6%.
Ethereum is not the only affected cryptocurrency. Other crypto assets such as Bitcoin and others face the crisis after they have all plummeted in the last 24 hours. Bitcoin declined from $34,601 and was trading at $31,894 as of 07:20 AM, UTC.
Reports show that inflation is running hot as the US dollar has jumped against a basket of currencies. The latest U.S inflation data released yesterday shows that inflation in June was much higher than expected, increasing the prospect of inflationary concerns.
According to the data, US consumer prices hit their highest levels in June this year for the first time in the last 13 years amid supply constraints and economic recovery from the COVID-19 pandemic. Traders are said to have sold off their Bitcoins and other crypto tokens on the news, pointing to fears that a continuously increasing inflation rate would prompt the U.S Federal Reserve to withdraw its quantitative easing policies.
However, some prominent crypto experts have aired their views on the impact of inflation on cryptocurrencies like Ethereum. Konstantin Anissimov, executive director at CEX.IO, recently said that the increasing macro inflation offers more bullish opportunities for Ethereum cryptocurrency the same way it does to Bitcoin. Konstantin stated that the reduced prices of cryptocurrencies are an avenue for investors to buy more coins at a discount while trusting the abilities of such coins to serve as the right hedge against inherent inflation. Konstantin, therefore, expects Ether price to surge to $3,000 in an anti-inflation narrative.
Meanwhile, the Ethereum network has been suffering from technical setbacks regarding a jammed bandwidth, delaying transactions and causing increased fees. However, the highly anticipated Ethereum London hard fork launch is expected to occur on August 3. This is considered a permanent solution developed to resolve the bandwidth problem as Ethereum plans to switch its energy-intensive proof-of-work to a cheaper and faster proof-of-stake protocol.
An improvement protocol is known as "EIP-1559" is set to bring in a new fee structure to make Ethereum cryptocurrency less inflationary. The protocol also recommends burning many fees collected in Ether to create deflationary pressure on the crypto. The upgrade also plans to reduce a significant amount of Ether supply to make it scarcer, just like Bitcoin.
The descending triangle pattern signals that Ether is likely to trade at a much lower level as it tries to find a new lower support zone at $1700 level. The bear market thesis can be invalided if buyers find confidence in the market and push the prices up.
Image source: Shutterstock
Read More