Ethereum (ETH) Price Analysis - March 3, 2021
Grayscale, a well-known digital currency investment fund and trust company, has sold 217 Ethereum in the past 24 hours, only to scoop up more Ethereum - Grayscale purchased 19,238 Ether in the past 7 days to expand its Ethereum Trust.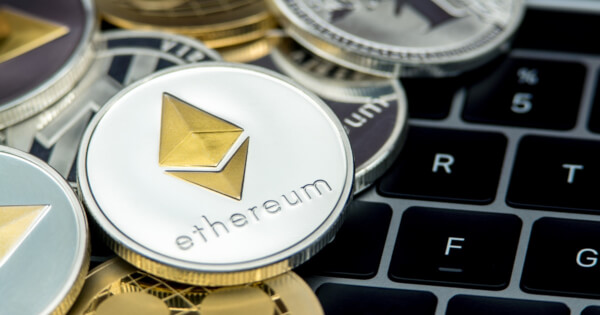 Within the month of January alone, Grayscale Asset Management has purchased an additional 243,302 Ether, which is valued at more than $380 million. The digital asset manager currently manages 3.17 million Ethereum in all.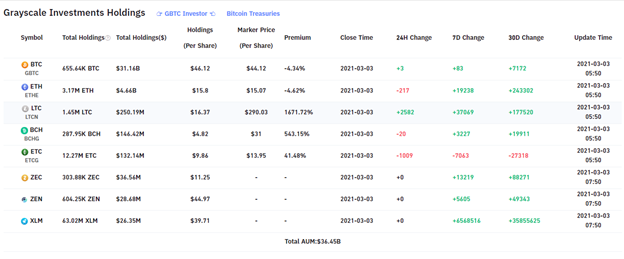 Source: Grayscale via Bybt
Which Support Level Will Trigger Bullish Reversal for Ethereum?
On March 1, Ethereum's price was affected by the bullish cryptocurrency market, resulting in the cryptocurrency rebounding from a low point of $1,293. Ethereum (ETH) rose by 10.48% during the day and successfully broke through many resistance levels to consolidate at around $1,500.

Source: Ethereum/U.S. Dollar 4-hour chart via TradingView
Ether stood in the middle of the exponential moving average ribbon once again, trading between $1461 and $1592. However, the follow-up ether market is not optimistic. After yesterday's hitting the high test, the pressure level of $1,600 received strong resistance. The selling power was strong, suppressing the price to a 50-day moving average above $1,489. Fortunately, the support strength of the 50-day Moving Average was strong enough. At the time of writing, the trading price of ETH is $1,557.
Judging from the short-term 4-hour candlestick chart, after a small adjustment in the pricing market, the current price is once again close to the upper resistance levels of $1,560. If Ether can break through the $1,560 threshold in the future, it may further rise to the $1,682 pressure level. However, currently, the upward momentum of the bullish trend is not strong and the battle between the buyers and sellers is fierce. If Ether fails to break above $1,560, its first line of support will be $1,400. For investors, this is a key support level to pay attention to, because if the bears succeed in driving the price of ETH below $1,400, the cryptocurrency might retrace and drop to $1,223. This will translate to an overall loss of 61.8% from its all-time high of approximately $2,050.
However, if the bulls manage to take charge and push the price of Ether above the pressure level of $1,682, the currency pair may retest its all-time high of $2,049.
Image source: Shutterstock
Bitcoin Dips Below $50,000 as Price Correction Continues, What's Next?
---

Read More