Elon Musk Reverses Decision to Sell NFT, but not before Setting an Asking Price of 420M Dogecoins
Tesla CEO Elon Musk announced the creation of his first NFT yesterday - an NFT-themed song. On Twitter, he said, "I'm selling this song about NFTs as an NFT."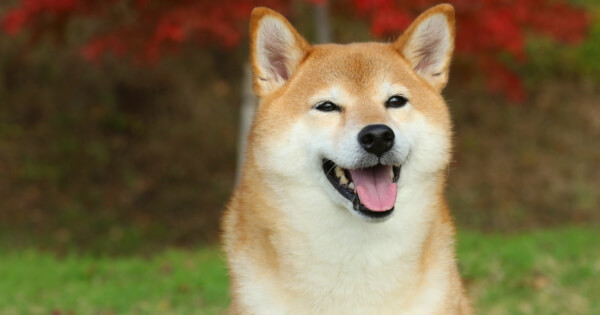 The preview of the song displays a golden trophy with the words "HODL" – hold on for dear life – emblazoned on it. The proposed NFT has already been bidded on.
Mike Winkelmann, the famous artist also known as Beeple, replied to Musk's Twitter, saying that he will bid $69 million to acquire ownership of the NFT-themed song. However, Musk seems to have something else in mind, as he stated that he was more than willing to accept Dogecoin (DOGE) as a form of payment. The Tesla CEO replied to Beeple's tweet and said that the price for the NFT was 420 million DOGE.
Although Musk seemed intent on joining the NFT craze yesterday, the Tesla CEO may have changed his mind about putting the NFT song up for sale, as he tweeted:
"Actually, doesn't feel quite right selling this. Will pass."
Despite going back on his word, Musk tweeting about DOGE on more than one occasion has served to send the meme-based cryptocurrency to the moon. At the time of writing, Dogecoin is valued at $0.058. If calculated with Dogecoin's unit price, the price of the NFT Musk was planning to sell would have been valued at approximately $24.26 million if 420 Dogecoins were accepted as payment.
Currently, Dogecoin remains bullish on the market. What should we expect of the meme-based cryptocurrency in the next few days?
Dogecoin (DOGE) Price Analysis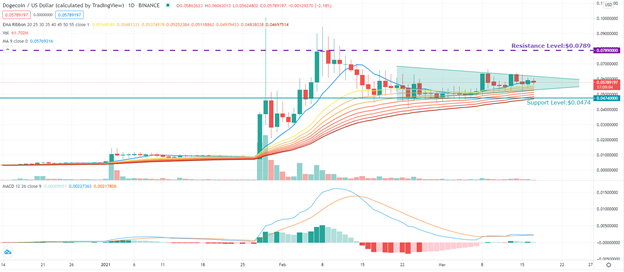 Source:DOGE/USD Daily via TradingView
Judging from the daily candlestick chart, the price of Dogecoin (DOGE) fluctuated within a limited interval in the convergent disjoint channel drawn on the chart. Due to the lack of volatility and investor capital inflows, the bulls have failed in trying to push DOGE's price towards the upper-pressure line of $0.060.
It is worth noting that an optimistic scenario for Dogecoin will depend on whether the cryptocurrency is able to defend the 20-day Exponential Moving Average (20-EMA). If DOGE can successfully stand on the 20-EMA, it can increase investor confidence and push up the meme-based coin's price.
If today's closing price can break the upward pressure line of approximately $0.062, then the Dogecoin price may rebound to the $0.070 mark. If the bulls are strong and more buyers enter the cryptocurrency, then DOGE/USD will potentially hit a high of $0.0789.
Inversely, if the price of DOGE fails to stabilize above the 20-EMA, then the lower support line that the cryptocurrency will test will be $0.052. If it breaks below this support line, the continued bearish momentum will trigger a more serious sell-off, pushing DOGE to $0.0474.
Despite the possibility of the bears overpowering the bulls to take control of DOGE, the blue MACD line has surpassed the yellow Signal line, indicating that currently, DOGE is bullish. Therefore, a breakthrough to $0.062 is expected in the short term.
Image source: Shutterstock
Could Ripple's Upward Momentum Continue? XRP Surges while Bitcoin and Ether Retrace
---

Read More