Cryptocurrency Market Opens The Week To Big Dip, What Coin Is The Biggest Loser Today?
The global cryptocurrency market opened the week to a big bearish dip, championed by a plunge in Bitcoin (BTC), and Ethereum (ETH). According to crypto market data aggregator CoinMarketCap, Bitcoin is down by 1.69% with a corresponding drop of over 5.6% from its latest all-time high (ATH) recorded at $49,487.64.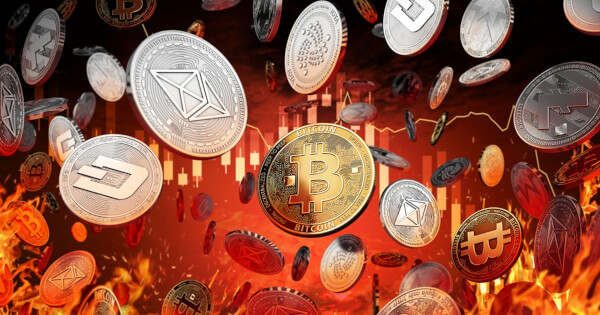 The entire market has also trailed the downtrend in a seeming correlation with Bitcoin. Ethereum is down by a bigger percentage loss of 5.73% to $1,715.28 over the past 24 hours. While the stablecoin Tether (USDT) is relatively unchanged in price, XRP is exchanging hands at $0.5406 after shedding as much as 11.39% of the gains it amassed in the past week.
XRP's dip may be a way for investors and HODLers to take a more suitable risk position as Ripple is set to go to have its first court hearing against the SEC on February 22. Investors will not want to be caught off guard holding the coin.
DeFi Tokens Are Not Spared The Loss
Decentralized Finance (DeFi) tokens were all not spared the loss in the encompassing market dip. While Polkadot (DOT) has shed off 10.02% to $25.49 per token, Chainlink (LINK) is down 11.04% to $30.68.
Aave (AAVE) has lost 11.83% to $433.96 per token and Uniswap (UNI) is not spared the dip after losing 13.62% to exchange hands at $18.91. This general dip does not negate the potential uniqueness in the fundamentals of these DeFi tokens, and many investors infact may seize this opportunity to buy the dip in anticipation of bigger gains in the nearest future.
Amid the general dip, however, 1inch (1INCH) comes off with the biggest loss per percentage change. The DeFi token is down 20.17% to $4.65 per token. The biggest gainers for the past week including The Graph (GRT), BitTorrent (BTT), and Avalanche (AVAX) are also down 17.19%, 14.37%, and 16.76% respectively.
Image source: Shutterstock
Bitcoin Soars To New ATH, With the News That Morgan Stanley Set to Bet Big on BTC
Read More