Chainlink Hits New All-Time High amid SmartZip Expanding Services to Oracle Network
SmartZip, a leader in real estate predictive analysis, announced that it will join Chainlink's market-leading decentralized Oracle network by launching its own Chainlink node today.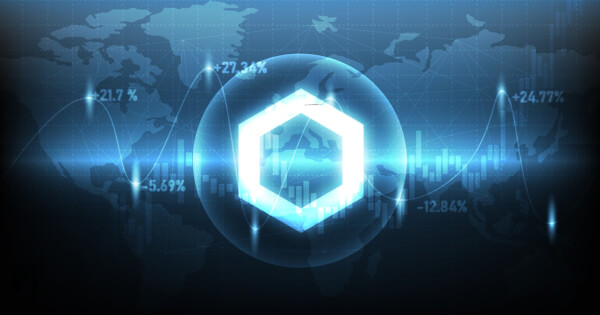 SmartZip is a part of Constellation Real Estate Group, enabling developers to integrate the most comprehensive and proprietary real estate database into their applications including property values, rental rates, probability of selling, and predictive pricing models.
Through the Chainlink node, real estate data can be stored on the chainlink, making SmartZip real estate data accessible to many smart contract developers, and using the data to generate smart contract applications for calculating future house values ​​and other important parameters.
In addition, the Chainlink node signs the encrypted data on the Smartzip chain in an encrypted manner to ensure the safety of users and the reliability of transactions.
Chainlink, as the most widely used oracle network in the current blockchain industry, provides data oracles, which can be accessed by any decentralized network.
Robert Reardon, the General Manager of SmartZip said:
"Chainlink offers SmartZip a quick, easy, and secure solution for transitioning our current API infrastructure to support blockchain networks,"
By leveraging the power of the blockchain and the integration of the chainlink network to digitize real estate into tokenized assets, more and more new applications will emerge, such as real estate being used as collateral for Decentralized Finance (DeFi) products. To obtain loans or real estate-based NFTs, they can be traded on a decentralized exchange (DEX).
According to CoinMarketCap, Chainlink, the twelfth-largest cryptocurrency with a market cap of $ $20,285,290,163 has risen by 23.35%in the past 24 hours.
Chainlink (LINK) Price Analysis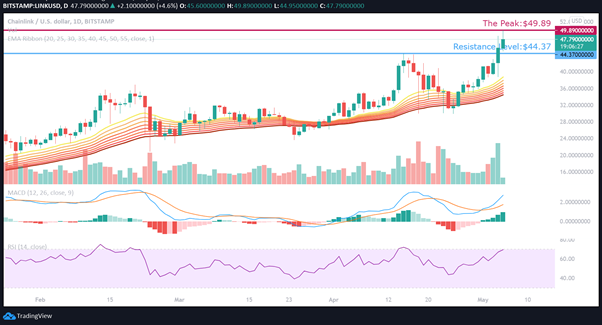 Source: LINK/USD Daily via TradingView
Chainlink's long green candlestick made its price break through the resistance of its previous high of $44.37 yesterday. And Chainlink (LINK) firmly stands on top of this, setting a new high of $49.89 today.
At the time of writing, LINK/USD is trading at $47.78.Although prices fell at the end of April, LINK has regained its upward momentum. Chainlink's price has been particularly bullish since it set a record-high of $49.89.
The transaction price of LINK/USD is much higher than the Exponential Moving Average ribbon. Both the upward sloping moving average and the bullish MACD indicate that the bulls are currently dominating the market.
The Relative Strength Index is touching the overbought zone and highly possible to into this bullish zone, which suggests that LINK may continue its upward momentum. This upward trend of LINK may open a faster upward channel when Chainlink hits a new high - this will indicate that the altcoin will not encounter strong selling pressure on its way up. It is very likely to break through $55 in the short term.
Image source: Shutterstock
Disclaimer: The views and opinions expressed in this article are solely the author's and do not necessarily reflect the views of Blockchain.News. No information in this article should be interpreted as investment advice. Blockchain.News encourages all users to do their own research before investing in cryptocurrencies.


Read More