Bitcoin's Liquidity is Vanishing From Exchanges and Supply Crisis is Near, Bullish for BTC Price
Bitcoin has seen multiple incredible rallies this year, recording new all-time highs. Bitcoin's price has reached its all-time high of over $24,100 earlier last week, and has since consolidated. Bitcoin's price plunged over 4.4% in the past 24 hours, slumping to $22,802, however, it has stayed well above its strong support level of $20,000.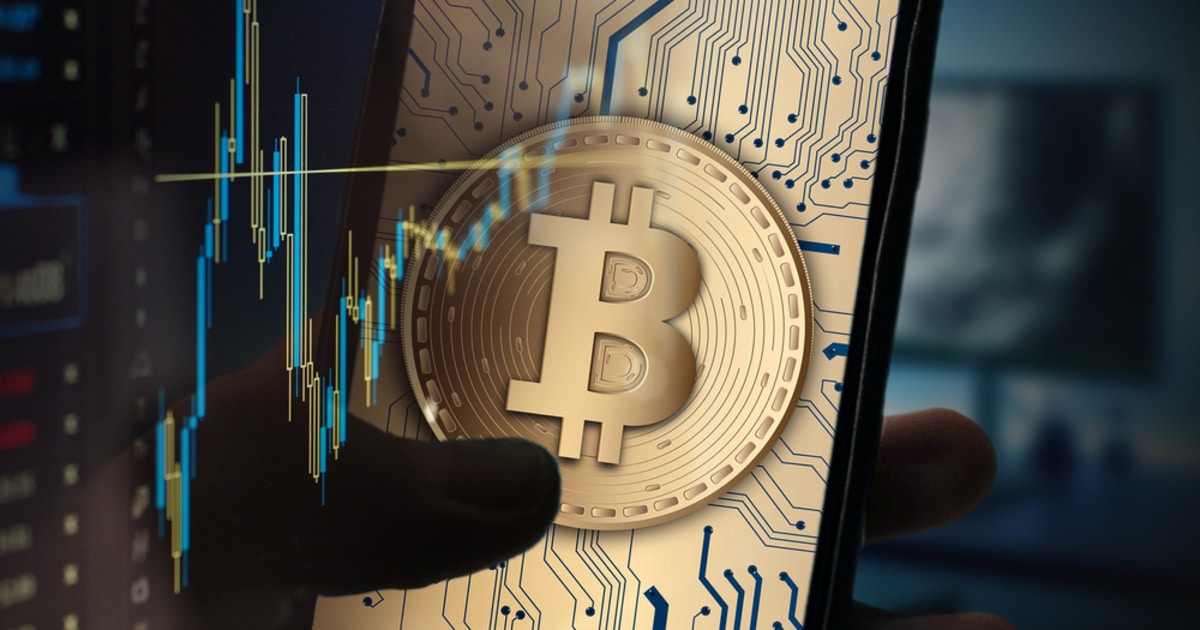 Although Bitcoin's price has retraced, MicroStrategy also recently announced that it has purchased more Bitcoin, this time—$650 million in BTC. MicroStrategy now owns more Bitcoin than the United States government, making it the fifth-largest holder of BTC.
As MicroStrategy has hoarded more Bitcoin, the CTO of Glassnode, Rafael Schultze-Kraft noted that Bitcoin is in a supply and liquidity crisis. According to the CTO, this makes it very bullish for the world's largest cryptocurrency. The CTO explained:
"#Bitcoin is in a supply and liquidity crisis. This is extremely bullish! And highly underrated. I believe we will see this significantly reflected in Bitcoin's price in the upcoming months."
According to Schultze-Kraft, Bitcoin hodler-s are hoarding 14.5% of the circulating supply of the cryptocurrency. The amount of Bitcoin held in accumulation addresses is 2.7 million BTC, which are the addresses that have only received Bitcoins, and never spent the funds.
21 million may not be the actual total supply of BTC
Although Bitcoin ultimately has a total supply of 21 million coins, some of which have not been mined yet; considering lost coins, the CTO argues that the supply is way less than the grand total. He explained:
"21 milltion bitcoins? You wish. That's just the hard cap – considering lost coins, the real number is much less. No one knows for sure how many, but estimations point to at least 3M. That's 16% less circulating BTC available."
Institutional demand on the rise
Institutional demand from Grayscale, MicroStrategy, Square, Ruffer Investments and MassMutual are slowly but efficiently buying up the Bitcoin supply. The CTO of Glassnode expects that many more institutions are on the move, "gradually, then suddenly."
Grayscale Bitcoin Trust has added around 210,000 BTC in the past six months, while the total amount of Bitcoin mined in the past 6 months is of a lower number, around 185,000. This would cause a supply crisis, as Grayscale has bought up more Bitcoin than the amount issued.
Liquidity is vanishing from exchanges
Bitcoin's supply on exchanges have been decreasing by 20% since January this year. Bitcoin has been moved from exchanges to long-term storage, including custodian wallets. Schultze-Kraft explained:
"Liquidity is vanishing from exchanges. We're seeing the longest depletion of exchange funds. 14.4M BTC is held by illiquid entities – that is 78% (!) of the current supply. Illiquid entities spend less than 25% of the BTC they receive, acting as supply sinks in the network. Yes, only 12% of the BTC supply is liquid, according to this metric."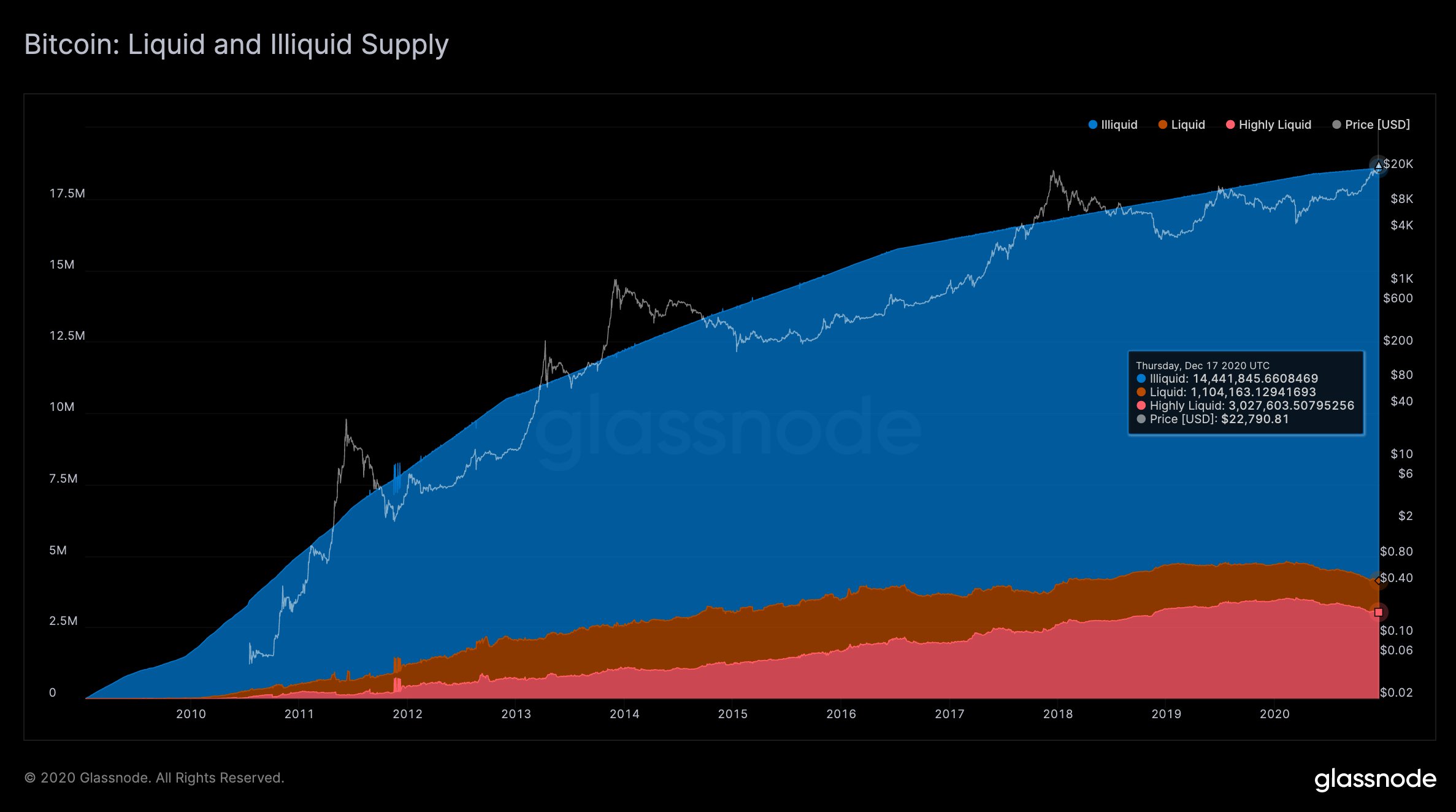 Bitcoin Dominance to top out this month then drop
Cryptocurrency trader Michael van de Poppe expects Bitcoin's dominance to top out this month. However, he believes that altcoins will take over, and Bitcoin's dominance would start to drop afterward. He explained, while pointing to the below chart:
"I'm still expecting the Dominance chart of #Bitcoin to top out this month. After which, #Bitcoin calms down and the dominance will start to drop."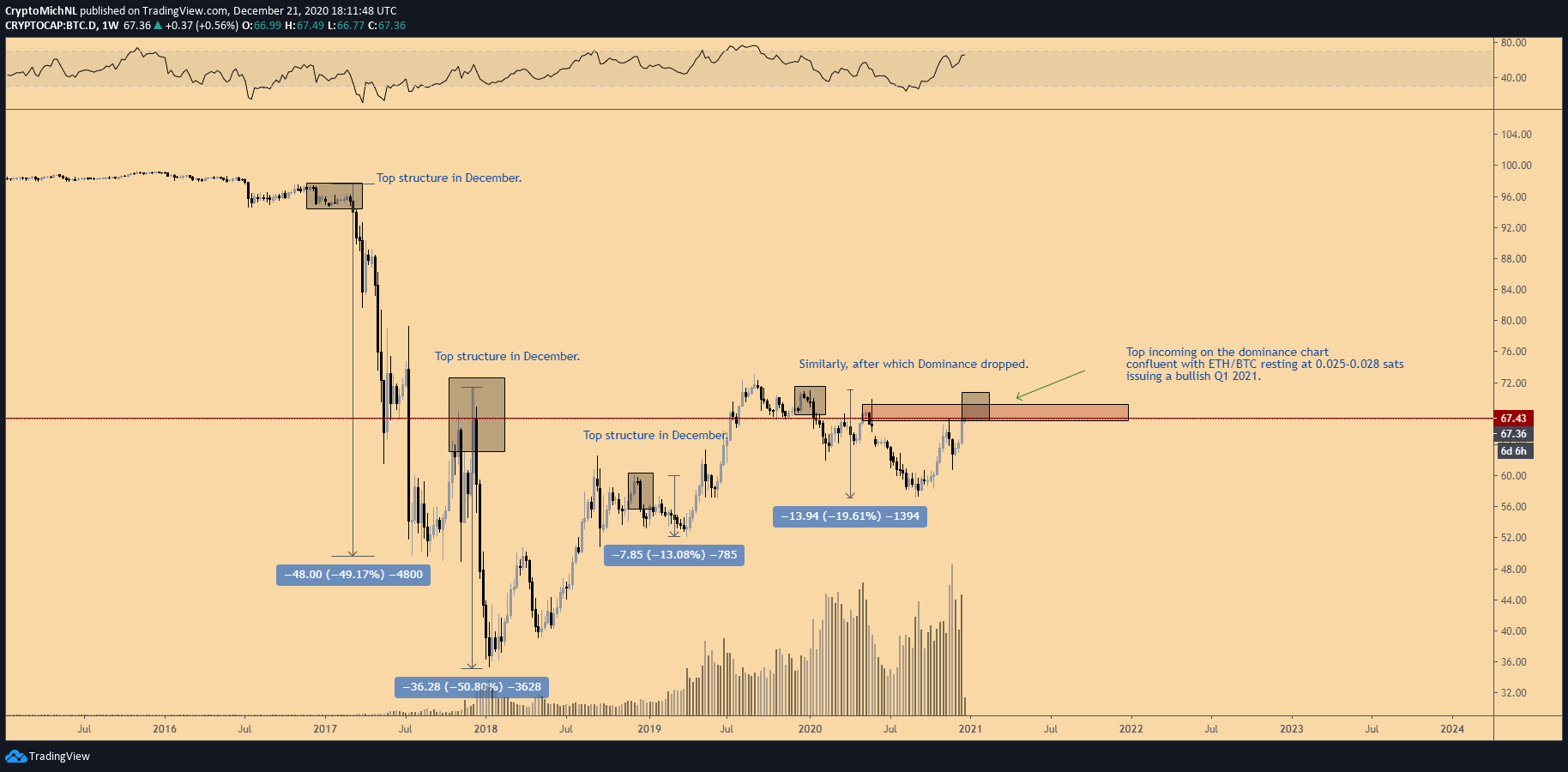 One more ATH for Bitcoin?
The cryptocurrency trader said that Bitcoin could still make a new all-time high if Bitcoin remains stable above its support levels. He added:
"The crucial area for me on lower timeframes is the $23,400-23,600 area. If that breaks for #Bitcoin, we'll be having new all-time highs before 2021. If not, I think the correction is due."
Image source: Shutterstock
MicroStrategy Purchases Another $650M Bitcoin, Convincing Elon Musk Large Transactions Can be Done
Read More