Bitcoin Climbs to $40K Despite Fed's Interest Rate Hike, Is Sell The Rumor Buy The News Playing Out?
Despite the Federal Reserve (Fed) increasing interest rates by half a point (0.5%), Bitcoin (BTC) soared by 6% to reach $40,002.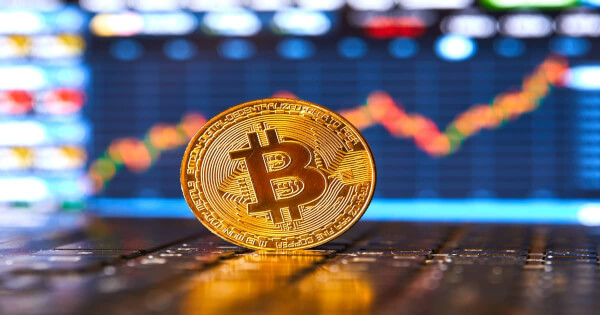 Even though the leading cryptocurrency had retraced to $39,595 during intraday trading, it was still 2.46% up in the last 24 hours, according to CoinMarketCap.
The Bitcoin market had been engulfed by nervousness about the repercussions of the Fed's decision for weeks because a hike in interest rate is usually bearish. Therefore, the surge in price could signal a sell the rumour, buy the news event.
Market insight provider Santiment explained:
"The Fed made their move as expected, with a 50 basis point interest rate rise. Unsurprisingly, the impact shifted bullish almost immediately for crypto, just as it did after the March hike. We may have another sell the rumor by the news scenario."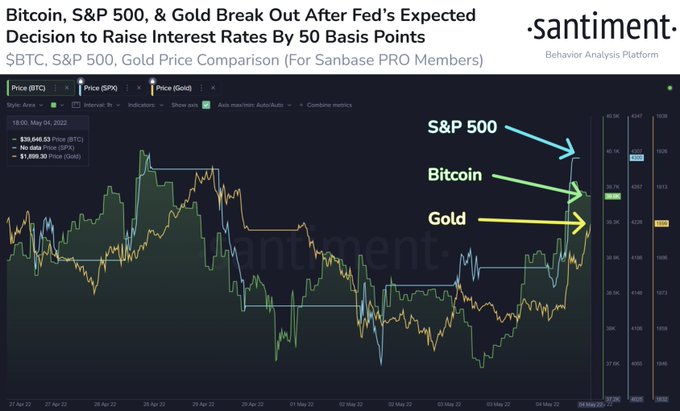 Source: Santiment
Therefore, what might be happening in the BTC market is the opposite of the "buy the rumor, sell the news" adage, which means that if good news is expected sometime in the future, the price will often move higher in anticipation of that date, but not necessarily after.
Meanwhile, Nick Mancini, the director of research at the crypto analytic platform, Trade The Chain, opined that the scenario in the Bitcoin market would have been bearish if the interest rate hike was 0.75% and not the current 0.50%. He explained:
"Any FOMC guidance that does not include a 0.75 percent interest rate increase would be bullish for both crypto and equities. We believe that the market has priced in continued hikes of 0.25% to 0.50% moving forward for 2022. This gives the market certainty, which, in turn, breeds bullish price action."
To tame runaway inflation, economists speculate that the Fed will roll out further interest rates to attain the target level of 2%.
According to the latest figures by the Consumer Price Index (CPI), inflation rose 8.5% year on year in March 2022, a scenario not seen since December 1981.
Meanwhile, Bitcoin might be painting a bullish picture based on the current narrow playing field because this could trigger a big impulse move, according to Market analyst Michael van de Poppe.
Image source: Shutterstock
Bitcoin Hits a Five-month Low of $39,650, Leading to $323M Liquidation for Crypto Traders
Read More