5 Reasons Bitcoin Hit $47K ATH and the BTC Price Surge Will Continue
Why is Bitcoin rising harder than ever before as BTC price pushes for $50,000 after exceeding $47,000 in a new all-time high? Here are five reasons for Bitcoin's growing strength.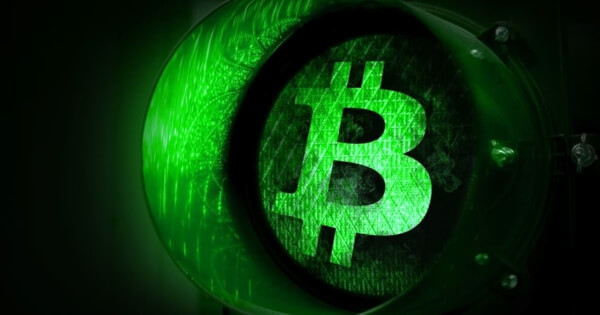 The Bitcoin (BTC) price rose to new all-time highs and continues to climb to a new peak. According to the latest data from Coindesk, Bitcoin has skyrocketed by 20.51% in the past 24 hours, surging past $46,000. The highest price recorded saw BTC top out at US$47,513 for the first time, continuing to a new record high.
According to AssetDash data, the current market value of Bitcoin exceeds US$850 billion. Compared with the large market value of some well-known company stocks, it ranks 7th, surpassing Facebook (the market value is now reported to be US$760 billion), Ranked behind Tesla (the market value is now reported at 818 billion US dollars).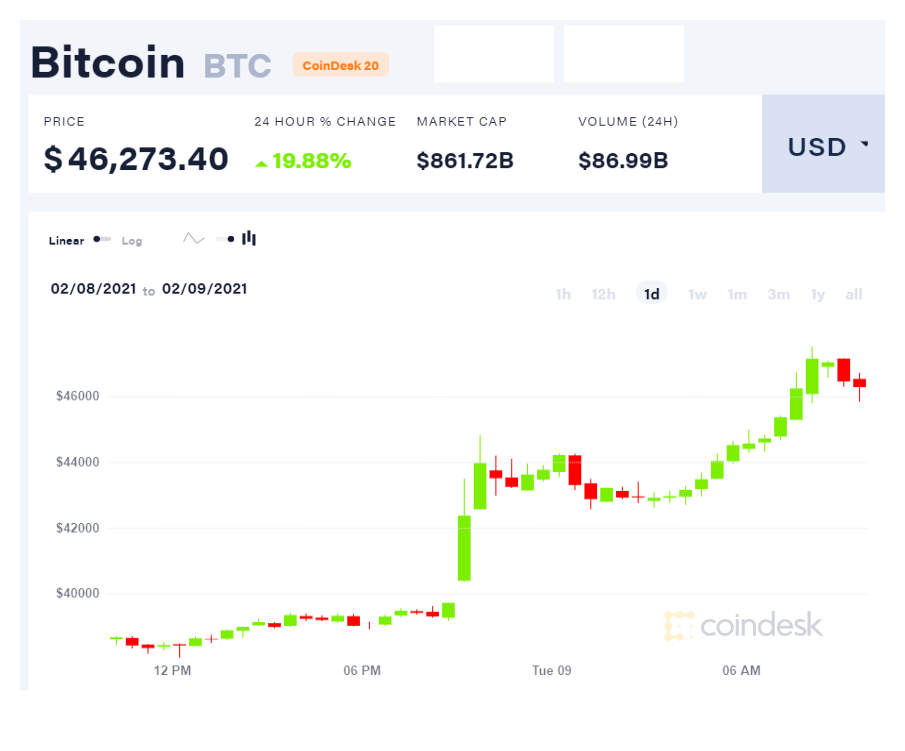 Source: 

https://www.coindesk.com/price/bitcoin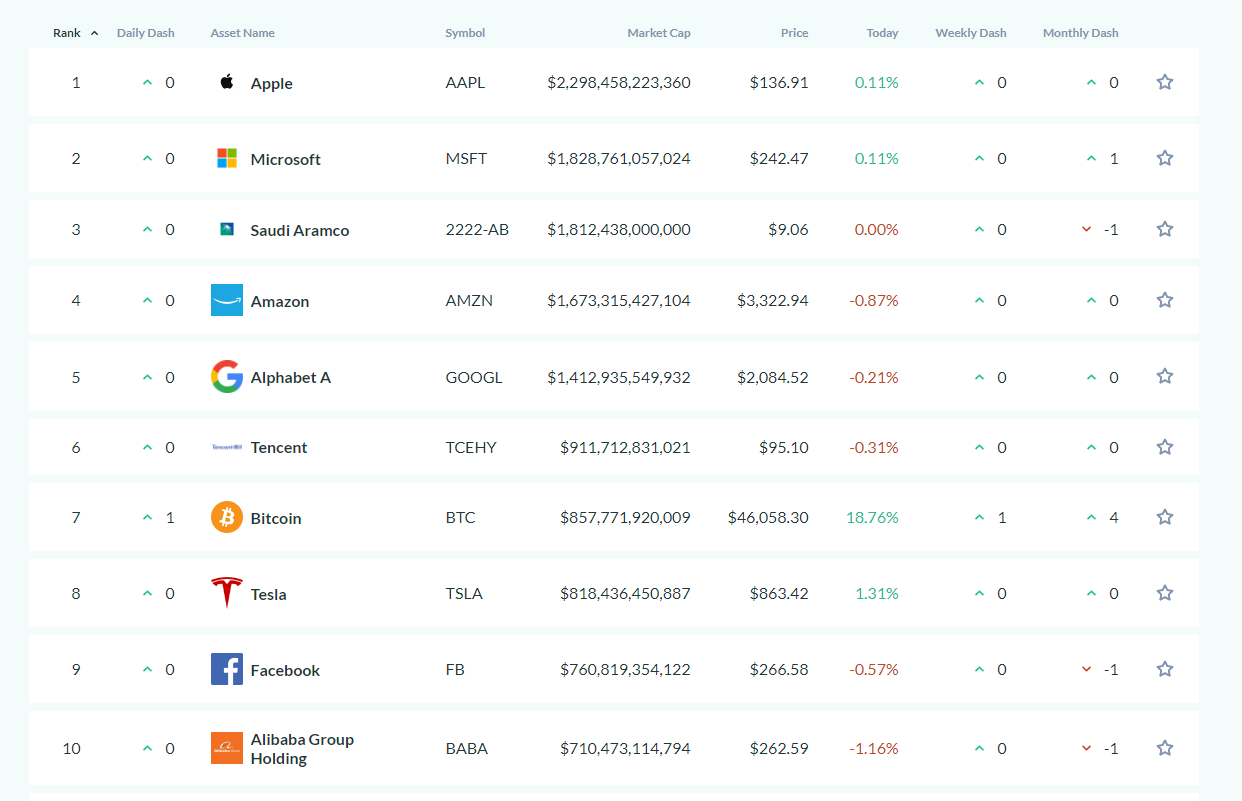 Source

:

https://assetdash.com/

 
Reason 1: Tesla CEO Elon Musk "assisted" Bitcoin
Tesla, which became the world's largest car company by value last year, the CEO of Tesla updated his Twitter profile with the hashtag "#bitcoin" of Bitcoin, demonstrating a strong interest in Bitcoin which indicates that he is optimistic about the future Bitcoin on last Friday.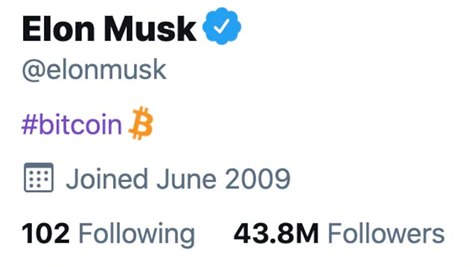 Late on Monday evening in the US, Tesla, announced in its annual report filed with the Securities and Exchange Commission (SEC) that it had invested USD1.5 Billion in Bitcoin as part of a new company investment policy. In the same report, a Tesla spokesperson also emphasized, "I believe that the Bitcoin we hold is very liquid", coupled with its solidarity with Bitcoin as a means of payment instead of legal currency, Bitcoin has a bright future.
Under Tesla CEO Elon Musk's crazy hype and promotion of Bitcoin has pushed the of crypto's price to new heights.
Paolo Ardoino, CTO at Bitfinex shared his comments in a note to Blockchain.News:
"Today's rise to a new bitcoin all-time high comes as Elon Musk's Tesla invests US$1.5B into the world's biggest cryptocurrency. The diversification of Tesla's investment policy into digital assets adds further momentum to bitcoin's rise as institutional investors are rushing towards the king of crypto. The tectonic plates of the global investment landscape have shifted. Etheruem and alt-coins are also in the green while Tether tokens (USDt) make their way towards a market capitalization of US$30 billion."
Reason 2: More and more large-cap companies will enter the crypto market
On October 21, 2020, PayPal, a major electronic payment company, announced that it will launch a new service that will allow users to buy, hold and sell cryptocurrency directly from PayPal accounts. At the same time, after large companies such as Square also announced the purchase of Bitcoin, more companies are set to enter the cryptocurrency market in the future. Digital asset management company Greyscale purchased 73,000 bitcoins in December 2020. MassMutual Insurance Group also invested US$100 million. Royal Bank of Canada analysts said: "Apple may be the next large company to invest in Bitcoin."
Reason 3:The trend of digital currency is becoming more obvious
More and more national central banks are experimenting with central bank digital currencies (CBDC) and speeding up the process of digital currencies, which is also one of the reasons why Bitcoin has been rising.
China has already piloted the digital RMB in Shenzhen, Suzhou, Chengdu and Beijing.

Japan is developing a digital yen.

US central bank is in the early stages of studying "digital currencies."

The Governor of the Bank of England, Mark Carney, called for a new virtual reserve currency before he resigned.
Reason 4: The depreciation of the U.S. dollar and high inflation expectations for global commodities
Due to the opposition of the Republican Party, Biden's new round of economic stimulus plan is around $1 trillion. However, according to the latest news, the scale of the new round of planned COVID relief aid may greatly exceed expectations and is now set to cost around $1.9 trillion. The House of Representatives approved a budget resolution last Friday, which raised market risk appetite and inflation expectations which effectively supports the price of gold and Bitcoin and the continuing hedge agains inflation narrative.
The U.S. 10-year break-even inflation rate (the spread between nominal 10-year U.S. Treasury bonds and 10-year inflation-protected Treasury bonds) has increased significantly and hit a high point of 2.22%, surpassing the high of 2.2078% in 2018 as well as the highest level since 2014. In the Fed's active monetary easing policy, inflation has continued to climb and the dollar has contiued to depreciate.
Due to the limited number of Bitcoins, with its total supply locked at 21 million, which is scarcer than gold Bitcoin is being used as a hedge against dollar depreciation. At present, Bitcoin can already be used as official currency in some countries for commodity purchases, financial transactions and other activities. At present, the inflation rate of the US dollar remains high. Under this circumstance, Bitcoin is considered to be expected to become a global "value-preserving currency" that can hedge against the risk of abuse of the US dollar. Thus, Bitcoin, which is a hedge, is loved by the market, making the BTC price push to all time highs.

Source

:

https://fred.stlouisfed.org/series/T10YIE
Reason 5: Gold Trend strengths
Spot gold prices continue to rise, and it is still in an ascending channel, and continues push for new highs at $1838 per troy ounce. As the Spring Festival holiday approaches, the demand for gold in the Chinese market has increased, and the demand for physical gold in China has risen over the last week. Due to the strength of the gold price, cryptocurrencies like Bitcoin that have the same risk-hedging properties as gold also have partial upward linkage.
 

Source

:

https://www.tradingview.com/chart/m5xT5c3h/
The Bitcoin price is $46,300 at the time of writing according to CoinMarketCap with a trading volume of $112.5 Billion in the last 24 hours.
Image source: Shutterstock
Tesla Inc Purchases $1.5 Billion in Bitcoin and Plans to Begin Accepting BTC Payments
Read More