ETH's Average Fees Hit a 10-Month Low, Does Fear and Stagnancy Engulf the Market?
The hiccups experienced in the entire crypto market might have sparked fear and stagnancy in the Ethereum network based on low fee levels.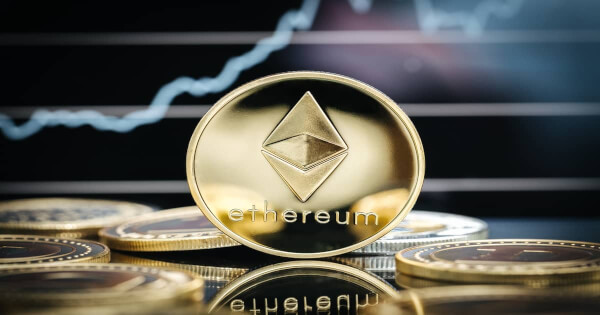 Market insight provider Santiment explained:
"Ethereum continues to show extreme low fee levels, indicating very minimal activity and hints of stagnancy and fear. This hibernation behavior also applies to ETH's often paired stablecoin, DAI."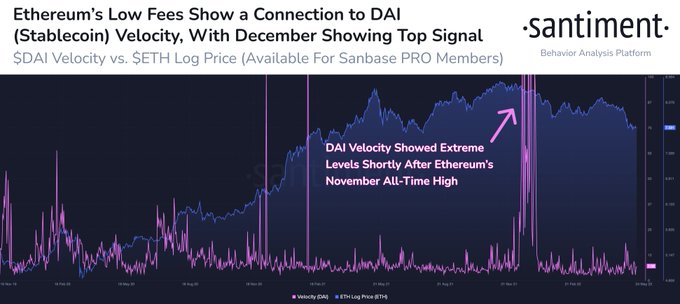 Source: Santiment
Previously, the expert stated:
"Ethereum's average fees are at an extreme low, costing traders just $2.54 per transaction currently. This is the lowest ETH cost level since July. Historically (but by no means automatically), ETH prices rise after average transactions dip below $5."
Therefore, time will show how things play out because Santiment acknowledged that based on past trends, Ethereum's price surged after average fees slipped below $5.
The second-largest cryptocurrency based on market capitalization was down by 9.36% in the last 24 hours to hit $1,739 during intraday trading, according to CoinMarketCap.
This liquidation might have been triggered by the activation of a high number of immobile ETH addresses. Crypto analytic firm Glassnode acknowledged:
"The amount of Ethereum supply last active 5y-7y just reached an ATH of 9,615,871.812 ETH."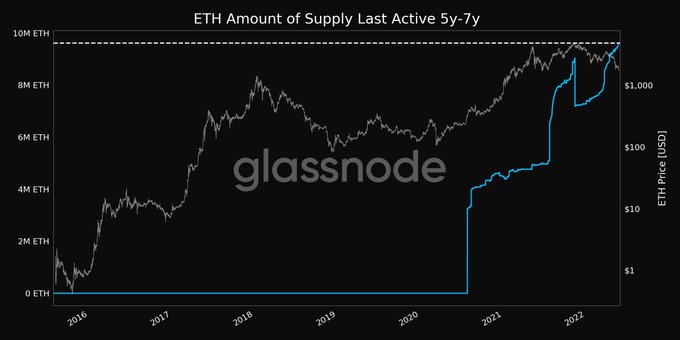 Source: Glassnode
Therefore, this trend might have prompted selling pressure because stagnant supply is usually activated for liquidation purposes.
This can be echoed by the fact that more shorts were opened in the Ethereum market. Data analytic firm IntoTheBlock acknowledged:
"With ETH dangerously dropping to the low $1,800, derivatives activity is rapidly increasing. Perpetual Swaps Open Interest reached $9b, suggesting more shorts are being opened."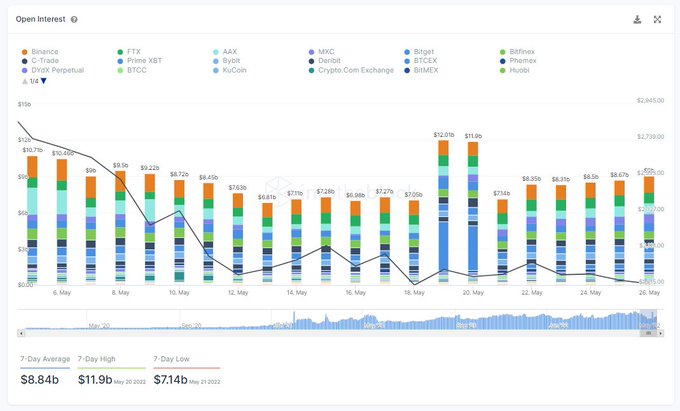 Source: IntoTheBlock
Ethereum needs to hold the $1,700 level because the next significant support zone is 1,600.
Meanwhile, in August this year, the much-anticipated merge that will deploy a proof-of-stake (PoS) consensus mechanism in the Ethereum ecosystem might happen.
Image source: Shutterstock
10% of Ethereum Supply Staked in ETH 2.0 in Anticipation of The Merge
---

Read More