Exclusive: Key Blockchain Developments and Cardano's Efforts in Africa
By
Mar 25, 2019 4 Min Read
This is the first of our two-part interview where we had the honor to speak with CEO of IOHK and Founder of Cardano, Charles Hoskinson. During this session he shared with us his new advisory role in Endor and how the influx of institutional money can have an impact on the blockchain industry. Charles also revealed Cardano's efforts to expand mainstream adoption in African countries.
We recently heard about your new role with Endor as senior advisor, can you tell us more about this and what you are working on with them now?
Endor is an interesting venture. It's a predictive analytics venture and the founders come from MIT, such as Alex Pentland. They have a lot of experience in topics like social physics, meaning how to look at the structure of a social graph and extract meaningful information. This is handled through the marketplace for people to get structured information through structured questions about raw information like the probability that a certain cryptocurrency is going to rise in value or whether something will happen and why.
What's really interesting about Endor's technology is that it uses order-preserving encryption, which means that when you send queries in, you are sending it against encrypted data. You can basically perform analytics while preserving privacy and in a very decentralized way. It's a really cutting-edge state of the art venture.
The project needs to gain access to more marketplaces. They need more data sets and they also need to find ways to further decentralize. So that's why they brought me in to help them on their business relationship side and build up their business model. I also help provide technical assistance and help them push the platform in the blockchain space. Like all advisorships, it doesn't take a lot of time and it's not my core focus, but it's certainly a fun thing.
Building upon the topic of Endor and their predictive analytics, what are some of the trends that you see coming up this year? What are some of the issues that we might face in 2019?
Bill Gates has a saying that states how people overestimate what they can accomplish in a year, but they tend to underestimate what can be accomplished in 10 years. Our industry is much the same way. When we look at it, it doesn't seem like we did much from year to year, but if you look at all the years from 2009 until today, it really is amazing. There are now conferences everywhere and tons of papers being written. I was blown away when I went to ETHDenver. They had five floors in the conference where four of them were hackathons where people were writing code. When we first started the project, we could hardly get 10 developers together and this time around there were 2,000 of them.
Looking at the trends throughout 2019, there will probably be nothing really surprising or revolutionary. But if we look at the years between 2019 and 2022, once there are custodial solutions, proper regulations, rating agencies and all these other things under control, at some point, we will see a trillion dollars from financial institutions heading into our space. We're going to see the STO revolution within the next five years. Besides, the blockchain industry seems to be healthy if we look at metrics like great user experiences, high user growth, bad actors getting phased out, and massive regulatory improvements.
Cellphones are going to continue becoming better places to store cryptocurrencies, like the Galaxy S10 for example. What does it mean for us? It means that the consumer experience of managing cryptographic assets and managing identity, money, and cryptocurrencies on a phone will become considerably better. You're going to have much better solutions for storing your crypto, recovering crypto, third-party management of crypto, and that basically builds all the infrastructure that we need to consumerize the technology.
Going on with the topic of institutional money and changing regulations, is this the direction that you imagined the market would be going?
The cryptocurrency industry is still at its early stage. If you're a large fund or even a mid-size firm, you can't go and put $5 million into cryptocurrencies at the moment. You will massively move the market and you can't hide those transactions because markets aren't that sophisticated. Institutional money is coming, but it just requires a lot. It requires size, scope and scale. It requires custodial solutions, insurance, and rating agencies which will come, but only after certain benchmarks.
The SMEs such as Coinbase and Ripple, will eventually IPO and the market will get to where it needs to go. Furthermore, the barrier to entry for securitizations are getting lower and this was a trend that happened even before the STO completion. With the JOBS Act you could suddenly sell stock to retail investors without filing a normal prospectus. These types of regulatory structures can be repurposed, and we already see that Singapore, Hong Kong, and Switzerland are doing this to facilitate these micro markets and that will allow a lot of really exciting things within the marketplace.
Everyone's focus is usually on the price of the market, although there has been a shift to focus on real-world use cases during the bear market. What are your thoughts on this, and do you think this get-rich-quick mentality will continue?
I've been in Bitcoin since it was $1 and I saw it go up to $30, then back down to $4, then from $250 down to $80, then up to $1,200 and down to $250, and then up to $20,000. Now the price is around $3,800. People want something for nothing and they like the idea that they can buy something and wake up a day later to it being worth 10 times or 100 times more. Those fair-weather get-rich-quick style investors cannot survive when times get tough. People who are interested in real technology and real investments will survive and thrive in these environments. We went through that phase in 2017 and now it's gone. I don't think it's going to come back. Instead, what's going to happen is having slow, methodical growth with occasional expansions. The next wave is considerably more sophisticated, and the industry needs to have better tools to manage risk and project quality.
I understand why some people are so price obsessed. In some cases, it's not even an attempt to get rich but rather an attempt to break even. If you bought a cryptocurrency like Bitcoin at $20,000, which is now at $3,800, what does that do to your life savings? A lot of people did that. They want the prices to go up not because they want to retire, but because they want to save their retirement or pay off the mortgage on their home that they took to speculate. It's quite unfortunate, but it's happened time and time again in the past.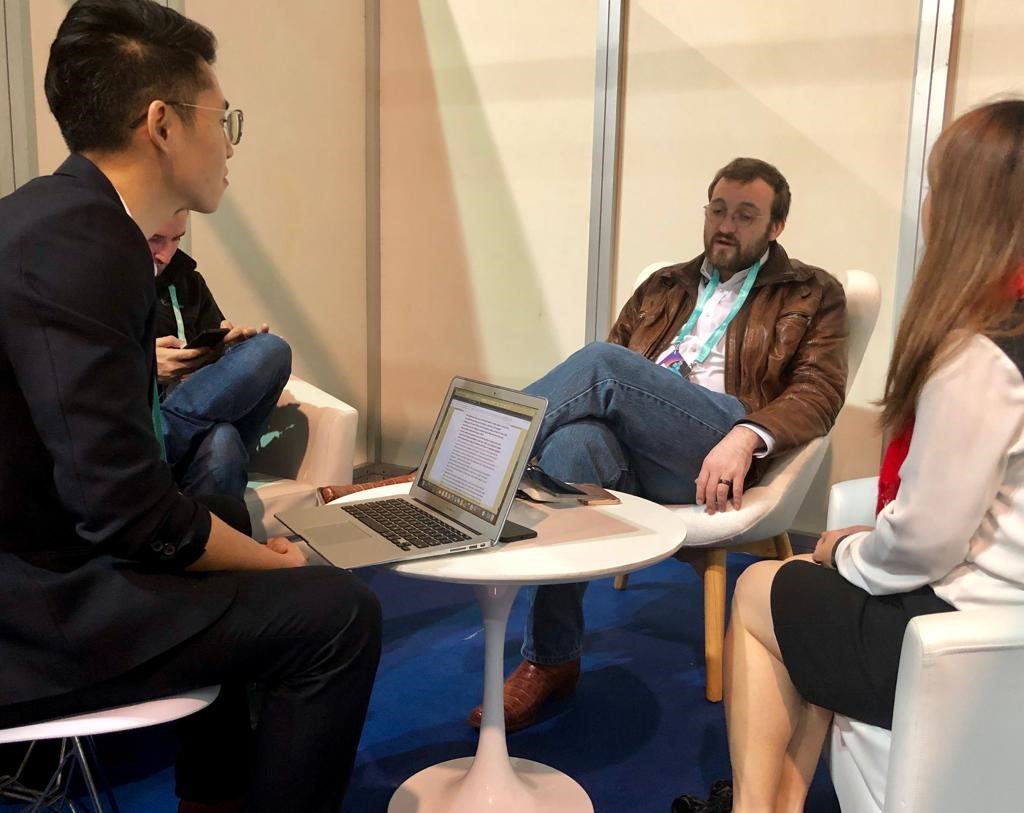 Charles shares with us the progress of Cardano's adoption in Africa.
A lot of how to solve the previous issue seems to be related to education of the mass public about blockchain and crypto. We know that Cardano has announced plans earlier to work with the government of Ethiopia to educate them and spread awareness and use of blockchain technology. Can you elaborate on that and let us know what other regions you are looking to expand?
We have a 52-country strategy in Africa, so we'd like to be everywhere in the continent by the end of 2020. By the end of this year, we'll have a presence in 25 countries. We're very aggressive, but we have a long time horizon in terms of how we interact with the nations and what we plan to accomplish there. Usually, the time horizon will be around three to five years and up to seven.
The first step is to build credibility with the jurisdiction and build a cohort of people that can actually do the work. For example, in Ethiopia we were teaching a course, which just concluded this month, for 23 women, 19 from Ethiopia and 4 from Uganda, teaching them how to program in Haskell. At the end of this course, these women will be capable of writing smart contracts and deploying enterprise ledger technology.
The next step is to roll this class over and pick a pilot we wish to innovate in, and for Ethiopia that is the supply chain management of coffee in Africa. There's a lot of international pressure to modernize coffee farms in Ethiopia. Farmers need to comply fair trade, biodiversity and carbon reduction requirements. Until farmers can get better analytics, tracking, and traceability, they're eventually going to start getting blacklisted, unable to trade, or forced to trade at a discount.
We believe the best way of solving this is with blockchain. We train these girls and then we work with them to set up a public-private partnership as a pilot so that we can demonstrate that a blockchain solution is superior to a legacy solution or even just a conventional database. If that works out, we can eventually scale that along the vertical across all million-and-a-half coffee farms in Ethiopia. Everyone will be using Cardano's technology which means they have identities and wallets and then can interface with cryptocurrencies for loans and insurance. This allows us to create organic adoption of the technology and solve real problems.
Our hope is to be all throughout the continent by the end of 2020, doing these types of pilots and then turning them into PPPs (Public-Private Partnerships).
In terms of the supply chain, how does the integration between the blockchain and the real-world work?
Remember that with supply chain it takes a village and it's not just one person who's in the blockchain. There are many actors. Using the bean as an example, the price discovery of the bean is inefficient, as farmers mostly rely on text messages to communicate the bean price. The verification of price accuracy is a lengthy process, as it takes a long time to pair up people checking the balances of each other.
The use of blockchain facilitates data transparency and digitalizes the supply chain process. Farmers are assigned with digital identities, which will give them more access to credit and allow them to sell their beans at more marketplaces and at fair prices. When farmers approach the international authorities for subsidies, their data is easily accessible on the blockchain, and the ways farmers utilize the subsidies can also be traced on the blockchain.
Credits to Xihua Duan for his support in this interview.
About the author
---
Like this post:
Read More