Cisco Blockchain: The Strategic Implication that You Should Know
By
Mar 28, 2019 3 Min Read
Institutions are exploring the use of blockchain in supply chain industry as the cost savings brought by blockchain can potentially bring new business value of $3 trillion by 2030. Cisco recently announced the launch of its own blockchain, an enterprise blockchain solution targeting supply chain, internet of things (IoT) and smart cities applications.
We foresee that enterprises will adopt Cisco's blockchain solutions into supply chain operations in the near future. The use of blockchain generates an automated level of trust among different parties. In the context of supply chains, blockchain enhances data transparency of the product's full logistics cycle, as well as its operating and maintenance conditions in real time. Such enhanced level of transparency is estimated to bring 15-30% cost savings in the shipping industry.
In addition, we believe the identity and policy layer in Cisco's blockchain can mitigate the risks of counterfeiting. This layer enables enterprises to detect counterfeited imports and authenticate the identity of millions of IoT devices. While the OECD and the EUIPO stated that the value of counterfeited goods reached US$ 500 billion in 2016, we believe this value will drop drastically with the advent of blockchain. Leaders in the supply chain industry are leveraging blockchain in detecting counterfeited goods, and the most recent example being SAP's partnership with Bumble Bee Foods to trace the logistics of yellowfin tuna.
Blockchain interoperability is essential to determine the efficiency of Cisco's blockchain in the long term. High interoperability facilitates data exchange among blockchains with the lowest latency. The development of blockchain interoperability is still at its early stage, and European Union recently calls for blockchain interoperability standards. To facilitate blockchain interoperability, Cisco is creating a common data model for digitized physical assets that can be deployed on any existing blockchain network, including its partners such as the Hyperledger and the Enterprise Ethereum Alliance (EEA). Cisco can also integrate its blockchain into its existing IoT network, which enables millions of Cisco devices connected to the blockchain. Once blockchains become interoperable, the chain of custody services in the supply chain will become primary applications among enterprises (see Figure 1).
Figure 1: Cisco vision to track and provide chain of custody in heterogeneous blockchain operating environment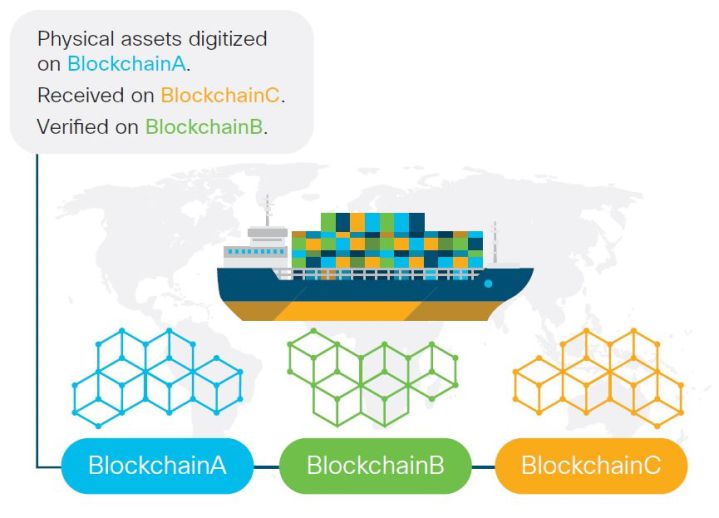 Source: Cisco whitepaper
Prior to the release of Cisco's whitepaper, Cisco has been collaborating with its partners in investigating the interoperability of blockchain. For instance, Cisco sponsored and participated the sandbox initiated by the Trusted IoT Alliance, which the open source testing environment enabled the exploration of blockchain interoperability for IoT use cases at planet scale. The testnet also allowed interactions between public and enterprise blockchain protocols. The collaboration with the Trusted IoT Alliance provided solid foundation for Cisco in facilitating blockchain interoperability going forward.
It is noticeable that the current blockchain application in supply chain industry are mostly related to product tracking and detection of counterfeited imports. We believe that once blockchains are interoperable to each other, this means the value is unlocked as data can be transferred freely across one blockchain to another. The unlock of value not only includes data, but also inherent currency like Bitcoin and security tokens. From a broader perspective, these cross-chain data as a whole are more valuable to enterprises as it facilitates data communication among different enterprises on the blockchain. In addition, data monetization can be a new revenue stream for enterprises when blockchains are interoperable. Enterprises will be able to monetize the utilization of idle assets and data through marketplace to enhance operational efficiencies. However, we are not there yet as interoperability remains the key challenge of blockchains. We shall wait and see!
For more information
1. Blockchain by Cisco - Whitepaper

https://www.cisco.com/c/dam/en/us/solutions/collateral/digital-transformation/blockchain-whitepaper.pdf
2. Are Blockchain and the Internet of Things Made for Each Other? – By the Boston Consulting Group and Cisco
https://www.cisco.com/c/dam/en/us/solutions/collateral/digital-transformation/bcg-iot-whitepaper.pdf
Thumbnail image credit: Jason Goh from Pixabay
About the author
---
Like this post:
Read More